Many areas of Las Vegas have seen home values double. There is a record home shortage. Take advantage of the Greatest Sellers Market in history. Steve Hawks is in the top 1% of real estate agents in America, Steve has sold over 3000 homes since 1998. We use technology to get 100 times more exposure and pass that savings on to you! Steve Hawks 22 point Hawk Extreme Marketing program gives sellers a distinct advantage over other homes in the area. Steve's recently sold listings have set record values not seen since 2006.
BEST OF LAS VEGAS 2016/17/18
GOLD Winner 3x! Voted By LV Residents
Las Vegas Review Journal holds a yearly local competition and lets their readers vote for the best leaders in the industry. With over 200,000 readers, we were VOTED NUMBER 1! We want to send a special thanks to the Las Vegas RJ, and all of our supporters. The continued support of our past clients allow us to spread the word and provide our FULL SERVICE 1% listing program to the masses. We can sell your home for top dollar for ONE Percent in Las Vegas and Henderson!
Listen to the Las Vegas Residents! Hire Us.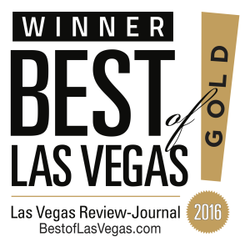 FULL SERVICE REAL ESTATE!
One Percent Discount Commission Realtor
Steve Hawks at Platinum Real Estate, will give you full service professional representation! We handle all your contracts from start to finish, stunning HDR photos of your home, sign in the front yard, lockbox, a full digital marketing plan, exclusive 3D tour technology, and so much more. Check out how we are able to give you more exposure for your home with Hawk Extreme Marketing.
Don't pay outdated commission fees from 1999.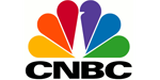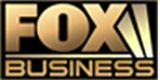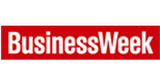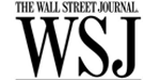 STEVE HAWKS REVIEWS
One Percent Discount Commission Realtor
"Steve at Platinum Real Estate Professionals sold our home for the highest amount since 2006 in our area. A China Cash buyer paid list price just like Steve had said would probably happen .I highly recommend Steve. He has a great personality, is very respectful, knowledgeable, and very timely. He always was on top of everything. I never had to wonder about anything. He always kept us informed. Very important he always listened to all your concerns and did not rush or was never too busy. He took pride to make sure you understood everything and you were always satisfied. Let me say I am 67 years needless to say I have experienced a lot. I would put Steve in the top 10 Individuals I have met in my life and as a businessman in the top 2."
Phil D
"We interviewed many luxury agents that all claimed the same thing. We saw steve on TV and heard his radio show straight talk with the hawk. It made sense his high impact luxury marketing the use of the latest technology and professional photographer. Steve's infomercials, bus tours for china cash buyers and California residents escaping taxes brought in more potential buyers for our home. STEVE sold our house in 16 days. It was a California buyer too. Steve's High Impact marketing program is no joke. I told Steve at platinum real estate professionals to show us the money and he came through."
Richard J
Leading Home Owner Advocate Launches
1% Listings for Homeowners *
Since the great recession started Steve Hawks has been a leading Homeowner Advocates saving many homeowners via principal reduction, loan mods and short sale. Today Steve Hawks is happy to welcome back traditional sales with open arms!
We felt this is a perfect opportunity to share the "List Your Home For One Percent Las Vegas" program with the public. This program has been hidden from homeowners for the last five years being used by insiders and banks. Now we are bringing it to the homeowner. The banks and hedge funds only pay 1% to list their homes. Why shouldn't you have the same opportunity? Why should the banks get a better deal than our friends and neighbors? We took a stand and said "List for one percent to everybody".
Technology Changed the Game in 2010
We use the latest technologic tools to market you home to the masses. The internet has changed the game for listing homes. The internet has greatly reduced cost and time. We pass that savings on to you!
In the past we would have to advertise in several different newspapers in several different cities. Then we would have to advertise in many real estate books. The time and cost on this was astronomical we could only use a picture of the front and fax in the information, but a must before the internet. Today the cost and time has been cut by 90% and we reach 100x more people. We pass this savings on to you. Today our profit margin is much higher than before the internet at 6%. Top dollar for your home and low cost means more money in your pocket.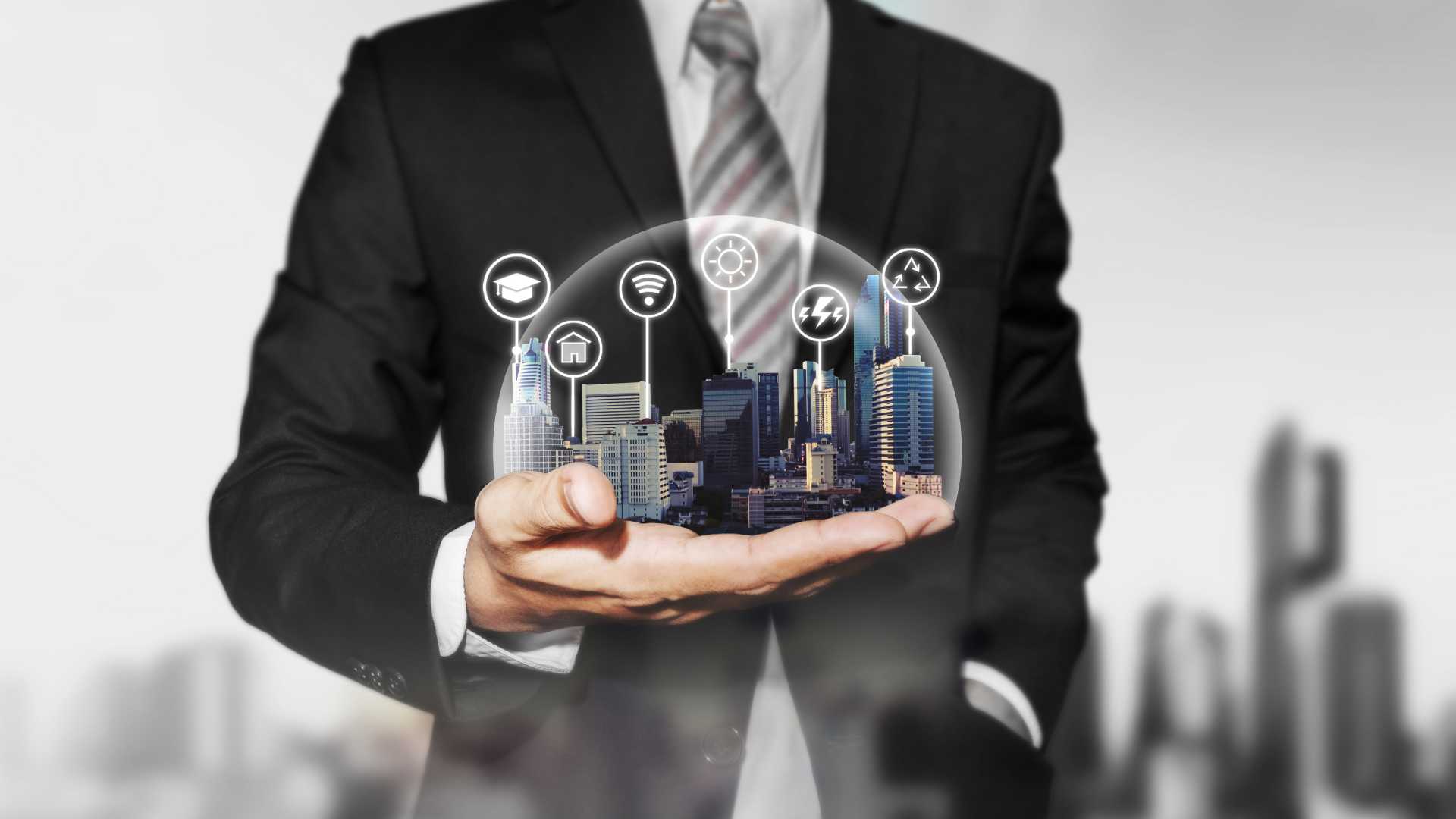 Todays Home Buyer is Empowered By Zillow & Realtor.com
We work with first time home buyers, move up buyer and investors. Just a few years ago buyers might be interested in 30 homes; well we would have to drive them to see 30 homes. Not anymore the advancement of 25 plus pictures of the interior and exterior of homes allows buyers to like or dislike the house from the comfort of their own home or our big screen home viewer located in our conference room. No longer making trips to homes that are not desirable. Huge cost savings and spike in volume.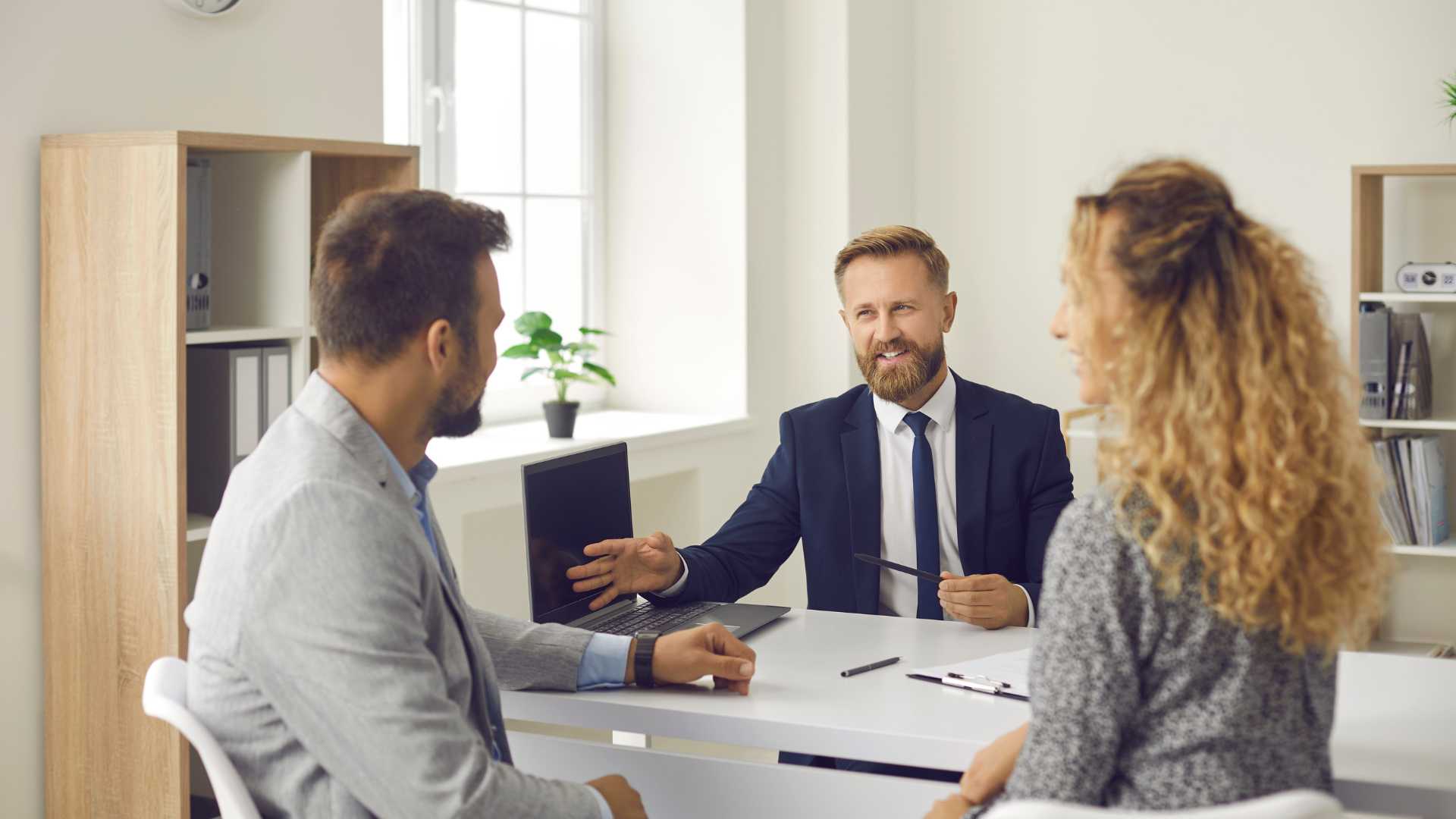 Zillow Trulia Realtor.Com Redfin Dominate Home Searches
Your home will be featured on the MLS, Zillow, Trulia, RedFin Realtor.com and many other sites that home buyers search. In fact over 90% of homebuyers use the internet to find their home. In today's market the buyers are actually finding the homes on their own thru automated MLS searches set up by the buyer via Zillow Trulia etc. Then caliing a Realtor to show them the home.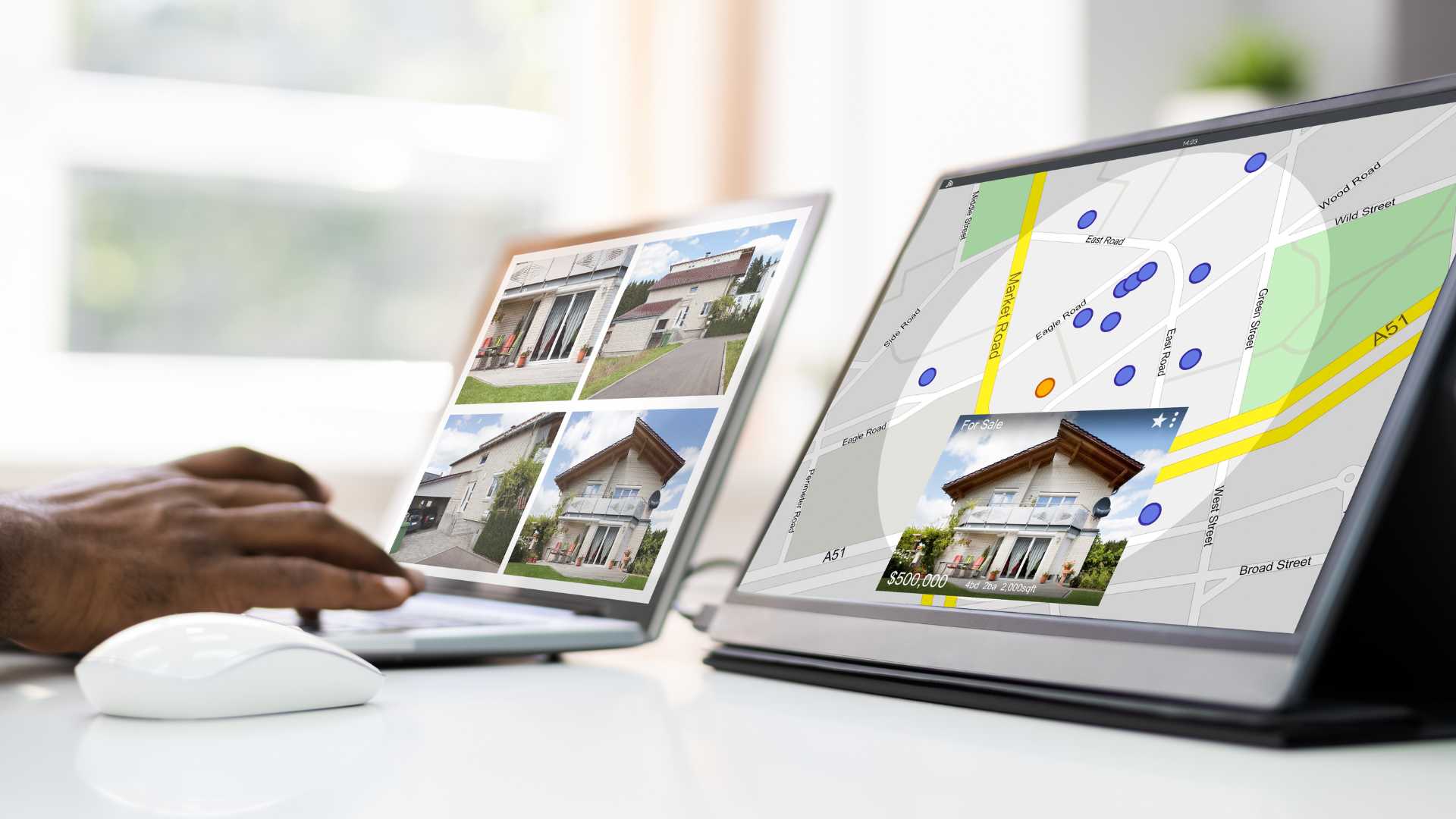 Exclusive Hawk Extreme Marketing Gets More Exposure For Your Home
In addition to our massive internet campaigns on these top real estate sites. We take it to the next level to create even more interest in your home. Our exclusive first time home buyer seminars, California Exodus events, China Cash BuyerBlitz and our Investfest events attract buyers from all over the world. Once again the massive internet market and technological advances create more business for us at far less cost. We pass that on to you!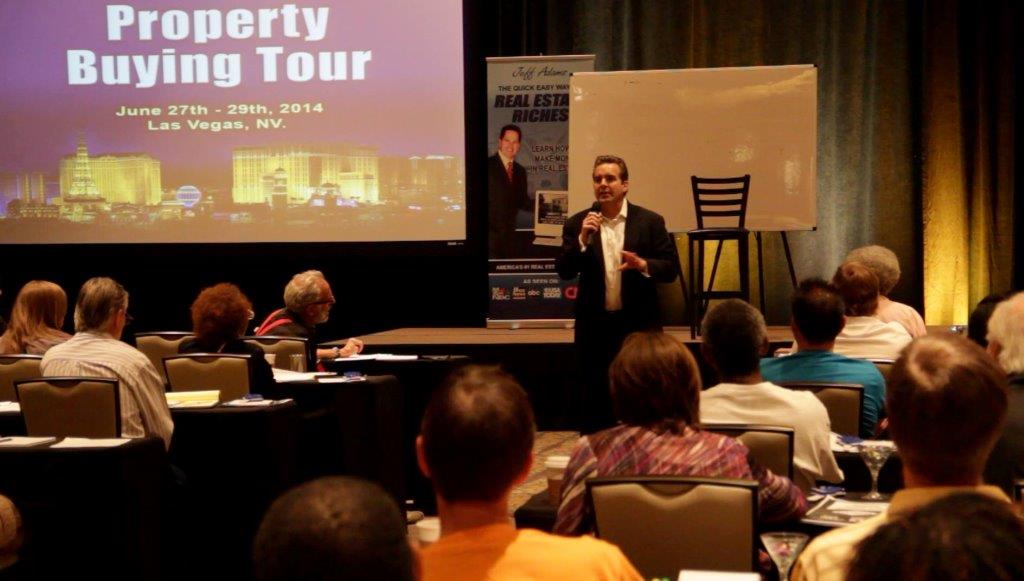 Over 80% of Las Vegas Agents Are Part Time
Many agents have to pay a franchise fee and split commissions with their broker this expense is passed on to you in higher commissions and junk fees. Some of these splits are as high as 75% to the broker and only 25% to the agent. If an agent cannot negotiate a good deal for themselves how are they going to negotiate top dollar for your home? This is one reason THEY NEED to get 6%. Ask any agent what is their broker split?
Wall Street Hedge Funds Take Over Real Estate Franchises
In the past most real estate franchises were Homeowner/Homebuyer friendly. Times have changed now a majority of big franchises are owned by Wall Street Hedge funds and are publicly traded companies. Your extra percentage does not go to "extra exposure" it goes to Wall Street Hedge Funds and stockholders.
We don't have franchise fees or broker splits we pass our savings on to you. We have invested in technology and the new era in real estate. Remember the old franchises that dominated the markets? Zillow, Trulia, Realtor.com and RedFin changed that. Where do you look for homes? Once again we cut cost and invested in technology this has produced higher results for our sellers.
30 Day Guarantee
Some agents push 6 months contracts. Not with us! Steve Hawks is month to month, so if you don't like Steve , fire him. More proof Steve Hawks gets top dollar real fast. Never sign a long term contract.
We always stay ahead of the curve and the ever changing market. This is why Steve Hawks has been able to sell over 3000 homes since 1998. We share our insight with our clients so they can make informed decisions. This is why Steve's referral rate is so high.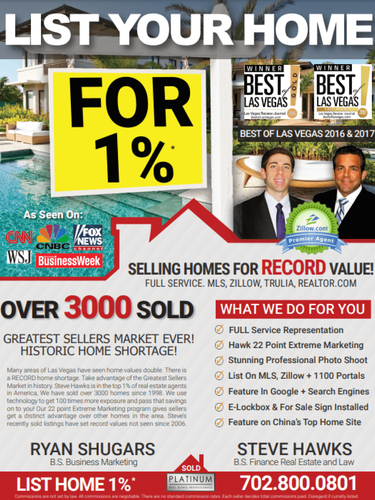 how to buy like a pro
Free Buyer's Guide
Comprehensive Real Estate
Buyer's Guide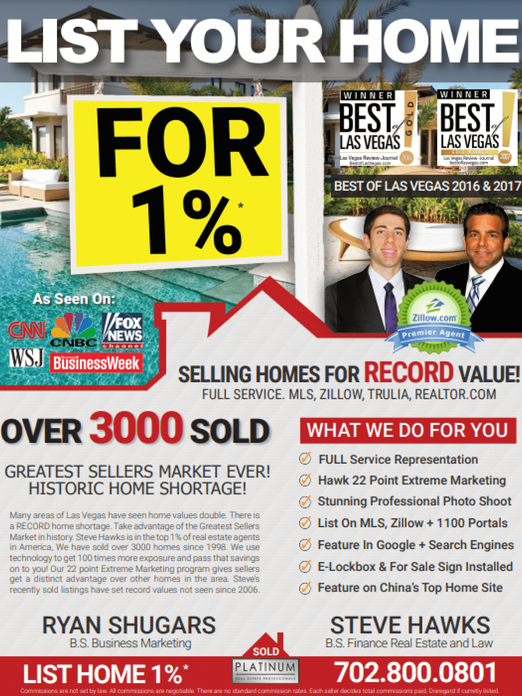 how to buy like a pro
Free Buyer's Guide
Comprehensive Real Estate
Buyer's Guide
LIST YOUR HOME FOR 1%
Many areas of Las Vegas have seen home values double. There is a RECORD home shortage. Take advantage of the Greatest Seller Market in HISTORY!
PLATINUM REAL ESTATE – NOW OFFERING 3D VIRTUAL TOURS
Only offered by Americas most ELITE agents
Steve Hawks continues to push the boundary by being the premier full service discount commission realtor as he now offers 3D tours! List your home for one percent in Henderson and Las Vegas, save your hard earned equity and get more exposure for your home than ever before. We will make your home stand out from the crowd with exclusive Matterport 3D Technology. Most Agents do not use this technology yet. Steve Hawks is leading the industry again!
Platinum Real Estate Helps You Take Advantage Of Your Equity
Make Big Profits With Platinum Real Estate Professionals
Sell Your Home For 1%
Put More Money in Your Pocket. Higher Values & Less Cost!
Market Is In Your Favor
Values Have Skyrocketed. Many Areas Have Recently Doubled!
Real Estate Specialists
Steve Has Sold Over 3000 Homes Since 1998!
We Sell Houses Fast
If Your Home Does Not Sell, You Do Not Owe Us A Dime!
Sell For More
Our Recent Sold Values are the Highest Since the 2007 Crash!
No Commitments
No Long Term Contract. Cancel Anytime. Nobody Does This!
Record Home Shortage!!
The Las Vegas Home Shortage Is In Full Force.
Wouldn't it have been nice to sell for top dollar while we are in this record breaking shortage of home inventory? The numbers clearly show selling now is beneficial, but will you listen? Call and ask us to sell your home!
Steve Hawks at Platinum Real Estate Professionals has hosted many events/seminars providing information you cant get from the news. Call us today and ask how you can make the most money in this changing economy!
We Offer Many Services
Dependable Representation You Can Count On